The Department of Information and Electronic Engineering "inherits" the infrastructure and services of the Departments of Information Technology and Electronic Engineering that came together. This infrastructure is particularly satisfactory and can fully support all the educational and research needs of the new Department.
Lecture classrooms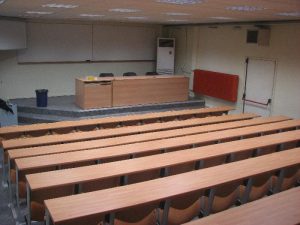 Each of the 9 lecture classrooms can accommodate up to 60 people with installed projection equipment connected to a local PC and internet connection capabilities
Each of the 2 amphitheaters has a capacity of 100 people and also features installed projection equipment.
Laboratory equipment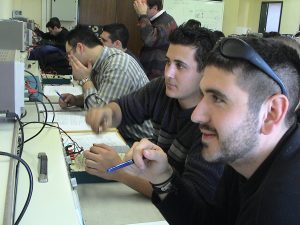 The Department operates 14 laboratory rooms on electronics items with special protection standards, such as industrial floors, isolation transformers and high voltage protection systems. Each of the 14 laboratory rooms has 10 working stations of 2 to 3 people. These laboratory rooms are used to teaching purposes but are also available to students for practicing, preparing for diploma thesis and other tasks. The adequacy, suitability and quality of the laboratory equipment are particularly satisfactory. Each of the 10 working stations is equipped with all the measuring instruments and systems that are essential to complete the training process throughout the laboratory courses.
The Euclid Room is also available in which students have the opportunity to carry out all kinds of experimental activities related either to the needs of their daily laboratory duties or to the requirements of their diploma thesis or even to the preparation of work in the context of innovative activities or research projects.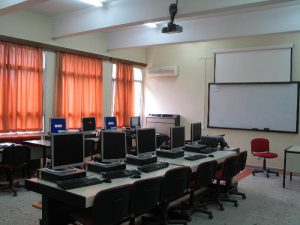 The computer laboratory training equipment is supported by a local network serviced by several servers and offers more than 190 working stations distributed over 6 laboratory rooms and staff offices:
Operating Systems Lab (room 201) with 24 computing stations
Information Systems and Management Lab (room 202) with 24 computing stations
Information Processing and Software Engineering Lab (room 208) with 24 computing stations
Programming and Multimedia Lab (room 211) with 24 computing stations
Computing Systems, Security and Networks Lab (room 210) with 28 computing stations
Intelligent Systems and Internet Applications Lab (room 301) with 26 computing stations
Laboratory to support research programs (room 302) with 10 computing stations
Offices of faculty members and technical staff with 26 stations
All of these working stations are supported by a unified network with structured cabling based on multi-mode fiber optic (gigabit) serviced by high-end networking equipment (Cisco Switches). The equipment is mostly managed and monitored by software developed by the Department or by open-source software.
Department's Services
The services that the Department offers to students and staff are summarized in the following list:
Website of the Department
Electronic announcements: Each student follows the announcements posted by the staff of the Department either through a particularly user-friendly and customizable online environment or by receiving an email.
Wireless Network (WiFi) for students: A wireless network with free access for students is installed in the premises of the Department.
Personal websites: The Department has two internet servers exclusively for the websites of students and staff. Each student can upload his/her own website to the server.
Online services for supporting the educational process  (e.g., online exam environments, environments for uploading student assignments and projects, etc.)
Mailing Lists: The Department, through a dedicated server, makes available mailing lists that serve the communication needs of staff, students and graduates.
Free Microsoft software (MS Imagine)
Database servers MySQL and PostgreeSQL for all students and staff of the Department
 VPN and SSH services for the remote access to the local network of the Department and the specialized offered services
Placement Office
Virtual machine server (XenServer – Open Source Server Virtualization)
Firewall
Cisco Networking Academy
Oracle Academy
Video streaming server
Additional servers for the educational and research process
University's Services
Mail server and webmail
Online registration system, declaration of courses and monitoring of grades for students
System for registering grades
Online e-learning platform (Moodle)
Synchronous teleducation platform (Big Blue Button)
Library of the University
Teleducation room