Amanatiadis Dimitrios B.Sc., M.Sc.
Laboratory Associates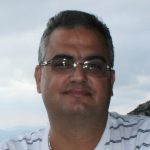 Dimitrios Amanatiadis has the degree of Information Department from the Alexander Technological Education Institution, Bachelor of Science in Computing from the University of North London, MSc in Computer Communications and Networks from Leeds Metropolitan University and the degree of pedagogical studies from Pedagogigal Technological School.
He is a member of Laboratory Teaching Staff at the department of Information and Electronic Engineering of International Hellenic University. He teaches the courses of Computer Networks and Organization & Architecture of Computer Systems in the laboratory. He has been working with a project contract, as an administrative employee with an open-ended contract, as Specialized Technical Staff and Specialized Technical Educational Staff at the Alexander Technological Education Institution located at Thessaloniki.
His research interests are Computer Networks, Wireless Computer Networks, Software Defined Networks and Network Security. He has published scientific papers in conferences and in a magazine.
Scientific Field:

-

Courses taught:

Office hours:

11-13 on Monday and Wednesday this semester

Room:

-

Telephone:

+30 2310013988

E-mail:

Homepage:

Public profiles: