Sapounidis Theodosios B.Sc., B.Sc., M.Sc., Ph.D.
Professors Emeriti and Past Faculty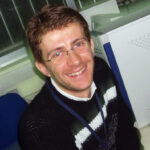 Theodosios Sapounidis was born in Thessaloniki and grew up in Piraeus. He first graduated from the Department of Electronics Engineering in 1996 and then in 2002 he also graduated from the School of Electrical and Computer Engineering of the Aristotle University's Polytechnic School. He gained a Master's Degree in Informatics before continuing to a PhD where his thesis focused on using objects to help children learn the basic principles of programming. During his studies, he received many awards and with the Cubes Coding proposal won two international prizes: the Open Education Challenge award and the second prize of The Neo Ubimedia MindTrek Awards 2014. Recently, with the project robotiles which consist of a smart robot and a fully interactive tangible programming language won four national and intentional awards (RG Challenge18, winner, 5th ACT School of Business John Papajohn award, winner of the 8th competition of Innovation and Technology, third award at 10th international university competition on entrepreneurship & innovation (ENNOVATION 2017) Research stream).
Theodosis has worked in over 10 research projects of the Schools of Medicine, Informatics, Psychology, and Philosophy and Education. He has also worked for the Greek Institute of Metrology and he was a lab assistant of the Electronics Engineering Department of ATEITh for over 10 years.
Scientific Field:

Tangible programming, Tangible User Interfaces (TUIs)

Office hours:

-

Room:

Building H, Lab G5

E-mail:

Public profiles: