Sidiropoulos Antonis B.Sc., M.Sc., Ph.D.
Rank: Associate Professor
Διοικητική θέση: Συντονιστής ΟΜΕΑ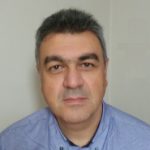 Dr. Antonis Sidiropoulos is an Associate Professor at the Department of Information and Electronic Engineering – International Hellenic University (former: Department of Computer Engineering – Alexander Technological Educational Institute of Thessaloniki). He is also a member of the Information Management & Software Engineering Laboratory.
He has a Ph.D. in Computer Science from the Informatics Department of the Aristotle University of Thessaloniki (2006). The Ph.D. thesis was entitled "Methods for Ranking and Clustering Bibliographic and Web Data". He received his MSc in Computer Science in 1999 and he graduated as well (BSc) from the Computer Science Department of the University of Crete in 1996. He has worked at the University of Crete, at the Institute Of Computer Science – FORTH, at the Design Laboratory of MIT Massachusetts, at the Aristotle University (Department of Informatics & Department of Meteorology and Climatology), at the Computer Engineering Department of the Alexander Technological Educational Institute of Thessaloniki in various research or productive projects.
Scientific Field:

Web Aplications, DataBases, Operating Systems, Scientometrics

Coordinator of the courses:

(1403) Introduction to Operating Systems, (1941) Development of Web Systems and Applications, (1944) DBMS Systems and Services Administration

Courses taught:

(1403) Introduction to Operating Systems, (1941) Development of Web Systems and Applications, (1944) DBMS Systems and Services Administration, (1949) Distributed Systems

Office hours:

Visit page http://people.iee.ihu.gr/~asidirop/hp/?p=Contact

Room:

106 - Former IT-Automation building

E-mail:

Homepage:

Public profiles: