Salampasis Michalis B.Sc., Ph.D.
Rank: Professor
Διοικητική θέση: MSc Director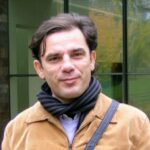 Michail Salampasis has a B.Sc. in Informatics and a Ph.D. in Computing. He is professor at the Intelligent Systems Laboratory, Department of Information and Electronic Engineering at the International Hellenic University, Thessaloniki, Greece. His main research interests are in applied and interdisciplinary studies in information science, including models and experiments related to information-seeking behaviour, information seeking in large professional search systems, distributed information retrieval and usability and user experience testing. He has published about 90 papers in refereed journals and international conferences and participated and/or coordinated in several development and research projects. He was the coordinator of the Cost Action 'Multilingual and Multifaceted Interactive Information Access' and a Marie Curie Fellow at the Institute of Software Technology and Interactive Systems, Vienna University of Technology.
Scientific Field:

Software systems development, Information Retrieval, Intelligent Systems

Coordinator of the courses:

Courses taught:

Office hours:

-

Room:

-

Telephone:

+30 2310013061

E-mail:

Homepage:

Public profiles: