Kotsakis Rigas B.Sc., M.Sc., Ph.D.
Rank: Assistant Professor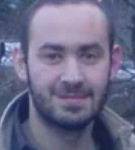 Rigas Kotsakis is Assistant Professor in Department of Information and Electronic Engineering of International Hellenic University. He graduated from Polytechnic School of Electrical and Computer Engineering (2003) and he continued his studies in Master of Science in "Advanced Computer and Communication Systems" (2011) while he received his PhD diploma in 2015 in Aristotle University of Thessaloniki. Among his research interests are semantic analysis of audiovisual signals, multimedia content analysis and management and fields of Radio/TV production.
Scientific Field:

Signal Processing, Multimedia Technologies, Radio/TV production

Coordinator of the courses:

(1303) Signal Processing, (1673) Mass Media Communication Systems, (1771) Audio and Image Technologies

Courses taught:

(1303) Signal Processing, (1673) Mass Media Communication Systems, (1771) Audio and Image Technologies, (1998) Free Selection A

Office hours:

After agreement with email

Room:

Laboratory of Mass Communications Systems

E-mail:

Public profiles: